Forget Contouring..Welcome Strobing Makeup
Contouring took the internet by storm and people started admiring the most in recent years. There wasn't a single celeb who didn't try contouring. I personally think it is great but I totally feel it is time taking and the results can at times be saddening. The below image shows what happens when the contouring is not done properly.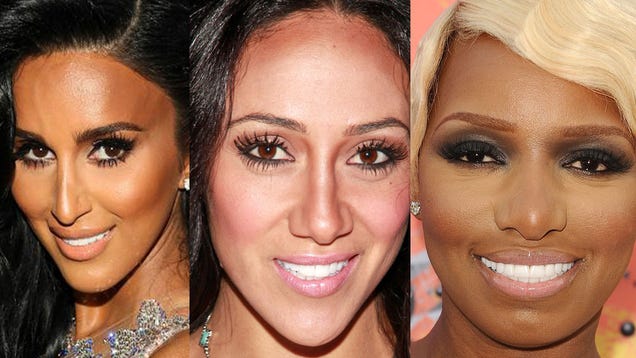 So, for those of you who find contouring difficult or just so overdone.. here is a good news!
We now have STROBING!
Strobing is just a super simple technique where you use a highlighter on the places where the light directly hits the face. It sounds so simple and easy and it would take hardly five minutes to achieve the look.
Contouring takes three products mainly – foundation, bronzer, highlighter/blush but STROBING just needs ONE product i.e. the HIGHLIGHTER!
So.. Here are the steps to achieve the look.
1. Primer:
Use an illuminating primer to create a perfect base for the foundation. For oily skinned beauties, you may skip the illuminating primer as your T zone tends to get shinier naturally 🙂
2. Foundation:
Use your regular foundation but avoid any foundation that gives high coverage. You can always stick to a good concealer and skip the thick foundation. We are aiming at achieving a dewy look and heavy foundation can make it look cakey.
3. HIGHLIGHT:
Take your highlighter and start applying with a tiny fluffy brush but I would like to suggest you to use your ring finger to swipe the highlighter on the areas where the light hits directly. Apply the highlighter on the top of your cheekbones, brow bone, inner corners of your eyes, bridge of your nose and along your Cupid's bow.
4. VOILA!
You are done.!! Rock the look with a glossy pout.
TIPS & TRICKS:
You can use any highlighter but not the one with glitter. This ruins the look. If you do not own a highlighter, you can always use an eyeshadow with gold/silver shimmer.
Here is a tutorial that may help you even more 🙂
Strobing does sound so fun to try and wear. I have never been a fan of the really tiring contour/highlight makeup. Thanks to all those beautiful women who made strobing look so great yet so effortless.